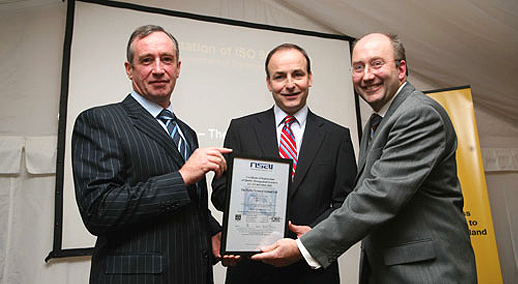 Independent Express Cargo Ltd was founded in 1984 by Owen Cooke, originally based in Santry near Dublin Airport.
Express UK to Ireland services, general freight forwarding and customs clearance were the base activities which later broadened out to our nationwide delivery service, project management and full storage and logistics services.
In 1993 the company was one of the first freight companies in Ireland to achieve ISO 9002 accreditation.
In 1999 we moved to expanded facilities in Northwest Business Park in Blanchardstown.  On a 4 acre site, we built 25,000 sq ft of high bay warehousing.
In 2003 we extended these premises to 80,000 sq ft for further expansion.
In 2004 we established The Pallet Network (TPN) and commenced the operation from this site, handling just 200 pallets on the first night.  The network at that point consisted of 10 depots covering all of Ireland.
In 2006 we commenced building a new purpose built hub, and moved into that in 2007.  This was 100,000 sq ft, and at that point, TPN was handling 1200 pallets per night and the network had grown to 21 depots around Ireland.
In 2016 we acquired an adjoining 4 acres of land and built an additional 80,000 sq ft warehouse for storage.
In 2019, a new transport depot was established in Cork at Dublin Hill, to service Cork city pallet deliveries.
In 2021 we rented a further 100,000 sq ft of high bay storage at Finglas, and the full 8 acre site at Ballycoolin is now fully occupied as a transport hub, handling nearly 5000 pallets per day.
Also, in 2021, Independent Express Cargo purchased a new warehouse in Little Island, Cork, consisting of 30,000 sq ft of warehousing, and 3,000 sq ft of offices.
The Business Today
While freight forwarding, general logistics and European road freight continued to develop, national distribution of palletised cargo became a priority for the company through its association with pallet networks in the UK.
Our operations are based at Ballycoolin (150,000 sq ft), Finglas (100,000 sq ft), and Cork (33,000 sq ft).
IEC & TPN combined collect and deliver more than 5,000 pallets per day across Ireland, and store in excess of 10,000 pallets for our clients.
Significant further growth is planned in the short term.
'Friendly and Reliable Service' is our motto and we live by that maxim.